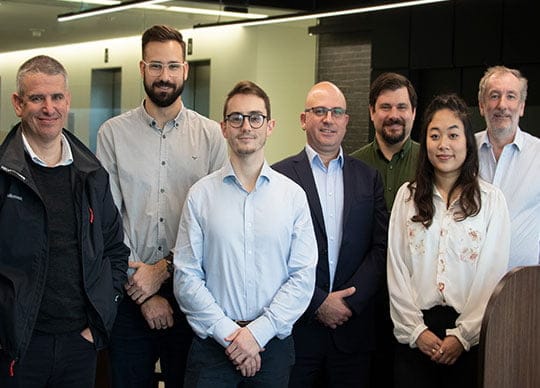 Velrada has appointed four new professionals to lead commercial and market functions as well as a newly formed Global Application Managed Services business.
According to Velrada CEO Robert Evans, being awarded as the 2021 Microsoft Growth Partner of the Year highlighted the opportunity for continued global expansion as demand for cloud-based technology services continued following the pandemic.
"The bolstering of our team and organisational structure will help provide a local focus to our people and clients, allowing us to continue leveraging our international practice and presale capabilities to bring the best of our competencies to market," Robert Evans said.
NEW HIRES:
Marx Tidon has joined Velrada from DXC Technology as Director of Velrada's newly formed Global Application Managed Services business. Before DXC, Marx was Global Support Manager with Sable37, leading a global team servicing client across the ANZ, EMEA and US markets. Commenting on the appointment and establishment of a global capability business, Group Solution Director Dominic Nolan said: "We have been servicing AMS clients on an ad hoc basis for several years delivering into the US and Europe using local and off-shore resources. We increasingly see clients ask for a high-value AMS offering that provides proactive solution management across Azure Cloud, D365 and the management of sophisticated continual release cycles. We deliver AMS capabilities into Ireland, Scotland and England; Europe and the US in the East and West for clients such as Sodexo, City FM, Concern Worldwide and the Red Cross.  Our offer is highly differentiated from traditional IT managed service offerings which are generalist and reactive. Clients understand that the investment that they are making in the Microsoft cloud stack is transformative, and they want a high-value partner that is focused on Microsoft, and that has the depth in global delivery combined with a local focus."
Jane Nelligan has joined the firm in a global commercial management role as Global Commercial Director to lead major legal, commercial and compliance activities. Previously, Jane held a Partner position as National Risk operations leader within Deloitte Consulting Asia Pacific as it transformed from an advisory based management consulting practice to a complex, fast-growing systems integrator. Her industry experience includes a role as a founding executive team member and digital program lead for a large in-house digital service start-up within an iconic Australian company. Commenting on Jane's appointment and the creation of the commercial function, Velrada's Strategy and Corporate Development Director Angelo Korelis said: "Velrada is very pleased to have attracted someone of Jane's calibre to this role. The function she will lead will support an increase in large and sophisticated client engagements leveraging the full Microsoft cloud platform. I worked extensively with Jane at Deloitte as a fellow Consulting Partner. She is joining the Velrada team at a key moment in its growth as it scales up for international SaaS product and IP sales, major systems integration programmes and large AMS deals."
Zel Hillar has joined Velrada in a Senior Delivery Director role. Formerly with DXC Technology,  Zel is an experienced, focused and passionate programme director with over 15 years of program delivery experience in the Microsoft space. Zel has led several global D365 implementations, varying Microsoft technologies and size delivered using local, remote and mixed resourcing models. Commenting on Zel's appointment, Dominic Nolan said: "we are delighted to be able to attract Zel to Velrada. His experience in delivering enterprise digital transformation solutions is key to our growth plans in Australia, and with Microsoft driving 50% YoY growth in D365, we are gearing up to support significant client programmes."
Brisbane based Jeremy Johnston has joined Velrada as Global BizApps Practice Director. Jeremy was formally Avanade's Australian National Dynamics Lead and has 20 years of ERP management consulting experience across various geographies, industries and client sizes. He has extensive experience as a trusted advisor, leading and influencing significant ERP programmes across the sales, solution and delivery lifecycle. Jeremy is an innovative leader in creating and delivering strategic IT and business plans to align business needs and competitive offerings. Dominic Nolan commented: "Jeremy joins us at a time where we see significant national and international growth. His role will be split between local Brisbane based clients, including Brisbane City Council, and other national and international client and practice development functions. Jeremy has a remit to build our capability out by 100 additional local and international resources in the next twelve months."
Other Organisation Changes:
Tom Fuller, Sean Byrne, Justin John, and Ian Kirby will take the roles of Regional Executive Directors for Vic and SA; WA; United Kingdom; and NSW, ACT and Vic, respectively.
Velrada CEO Robert Evans said: "These promotions and structural changes give a local focus to our people and client operations whilst still being able to leverage our international practice and presales capabilities to bring the best of Velrada's competencies to market. Tom, Ian, Justin and Sean are exceptional leaders and are beacons for our people and values in the market for excellence in client delivery. We are particularly excited for growth in the UK, with our team there now totalling 20 professional staff, complementing existing teams in Ireland and France."
Dominic Nolan, Velrada's Group Solutions Director, will lead a new division to develop and further commercialise Velrada's PowerWorker SaaS solution.