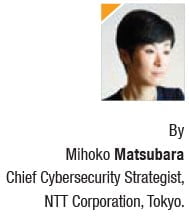 This article aims to present how a Japanese company, Nippon Telegraph and Telephone (NTT) Corporation, is now willing to share insights and seeking collaboration with other countries including Australia in the course of cybersecurity journey empowered by diversity. "Nippon" means Japan in Japanese. Dimension Data under the NTT Group is honored to have had the opportunity to contribute to G20 Australia in 2014 and contribute to Deakin University's cybersecurity curriculum.
Since Japan is hosting the 2020 Tokyo Summer Olympic and Paralympic Games and security is a key element for the success of the event, it is crucial for the country to enhance its cybersecurity and raise the global understanding of Japan's cybersecurity efforts. Because everyone uses IT for their daily lives and business operations, cybersecurity is fundamental part of today's digitized world. The borderless nature of cyber threats requires academia, government, and industry to work together with their expertise and innovative ideas beyond national borders.
NTT is a global telecom company based in Tokyo. While it started out as a telecom company, the NTT Group now has a wider range of business operations from advertisement, cybersecurity, facilities, finance, IT services, urban development to mobile phone and telecommunication services. Over 960 subsidiaries operate in more than 190 countries with 280,000 employees. If all the IT services provided by different subsidiaries are combined, the total makes the NTT Group one of top five IT companies in the world…Click here to read full article.