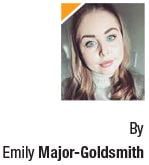 Dr Jenna Carpenter, the Dean of the School of Engineering at Campbell University and advocate for females in STEM subjects, once commented that, "If the cure for cancer is in the mind of a junior high school girl, odds are that we will never find it."
I'm not here to write about cancer or its cure, but rather the idea that, if the next breakthrough in mathematics, science, engineering or technology was inside the mind of a young female, the likelihood is that it is less likely to be developed past its infancy. This is disheartening.
Nevertheless, there is hope. Dr Carpenter is neither alone in her encouragement of women nor alone in attempting to alter the gender shift. Like much of the developed world, Australia is seeing an increase in the inclusion of senior female C-suite leaders in some of our most influential organisations, such as Cisco, Tabcorp, NAB and PwC. In common, these women are passionate supporters of women in STEM
Gender Minorities
This leads me to thinking about the gender minority bias in STEM. According to the Oxford English Dictionary, a minority is defined as:
'The smaller number or part, especially a number or part representing less than half of the whole'.
When we discuss the topic of minorities, we often consider race, religion, even political persuasion, yet often we fail to consider the lesser known – 'the minorities of the so to speak minorities' – Women!
Women are certainly not a minority in our world, yet when it comes to their roles in society, a gap grows between men and women and where they feel their careers lie. Women in STEM subjects isn't a new topic. We, like our counterparts, have made significant advancements within society, yet our growth in these areas of study increases slowly by comparison…Click HERE to read full article.