In this episode we dive into Intent Based Networking with Mansour Karam, CEO and founder of Apstra, Inc., based in Menlo Park, California.
Apstra has pioneered Intent-Based Networking and Intent-Based Analytics to simplify how data centre networks are built and operated. The privately funded company has recently announced a deployment by Awnix, a provider of cloud services and products, for the first AOS supported deployment of OpenSwitch (OPX) on Dell Z9100-ON switches in a Tier 1 service provider production network. AOS is a hardware-inclusive, closed-loop intent-based distributed operating system that automates the full lifecycle of network operations and enables the network to configure itself, fix itself and defend itself.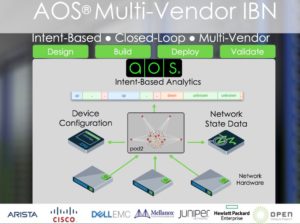 The telecom service provider deployment includes a combined solution as part of a hybrid cloud for OpenStack Deployments and is part of an open IaaS network infrastructure offering. The Awnix, Dell EMC, Apstra solution provides a cloud platform that increases business agility through an autonomous or Self-Operating Network™ that delivers log-scale improvements in CapEx, OpEx and capacity.
Recorded at the NetEvents Global Press & Analyst Summit – Innovators in Cloud, IoT AI & Security, Dolce Hayes Mansion, San Jose, California, USA, 26 May 2018. #NetEvents18
For more information visit www.apstra.com or the Apstra Blog
NetEvents Blog: http://www.netevents.org/news/blog